Looks we'll be spending some time up near Doubtless bay when we visit NZ. Poking around at things to do I discovered that the rainbow Warrior was sunk just off the shore at the Cavalli Islands. Unfortunately it's sunk in 25 m of water, which is beyond the scuba certification that SP and I have, so we won't be actually visiting.
I was quite young when the flagship Greenpeace ship was sunk. It was 1985, so for those that keep track, I was 5. I'm not sure how the Rainbow Warrior became a figure of my nostalgic past, but one way or another, it got lodged in there and I seem to remember fragments of it's story from my childhood. I have this fuzzy vision of boat flotillas harassing whaling ships. (No idea if that's true or not.)
But these days, I have Wikipedia. Turns out that boat was sunk by French secret service agents and caused quite a stir. Greenpeace was later compensated, and of course, since those days they have now floated the "Rainbow Warrior II" and in 2011 the "Rainbow Warrior III".
I found a few cool photos of the Rainbow Warrior so here they are for your enjoyment. And as parting words the official ship slogan: "You can't sink a rainbow". (Awwhhh, love those tree huggers.)
Apres Bombing - (C) Encyclopaedia Britanica
Being re-sunk in it's current location. (C) lust4rust.co

The bow. (C) Seafriends.org.nz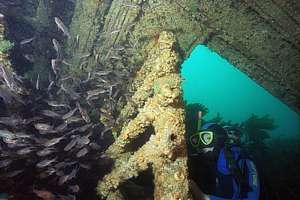 The forecastle(C) Seafriends.org.nz
For a much better background on the boat, check out:
http://www.seafriends.org.nz/issues/res/rainbow_warrior.htm